The 5 Best Intranet and Extranet Themes for WordPress and BuddyPress
I did an extended research on what intranet extranet solutions for WordPress there where available. And this is my honest review.
Have you ever been in need of a private member only area where you will have users discuss, fill in polls, and download files and so on? An intranet or extranet?
Well, a customer of mine actually was in need of a place like that some few months ago. First of all this kind of space has a name, and it is called intranet or extranet for WordPress, and I am going to be sharing with you what I did and the themes I checked out to get my customer what he needed.
However, shall we have a look at why WordPress can do the job with the necessities needed to ensure excellent delivery?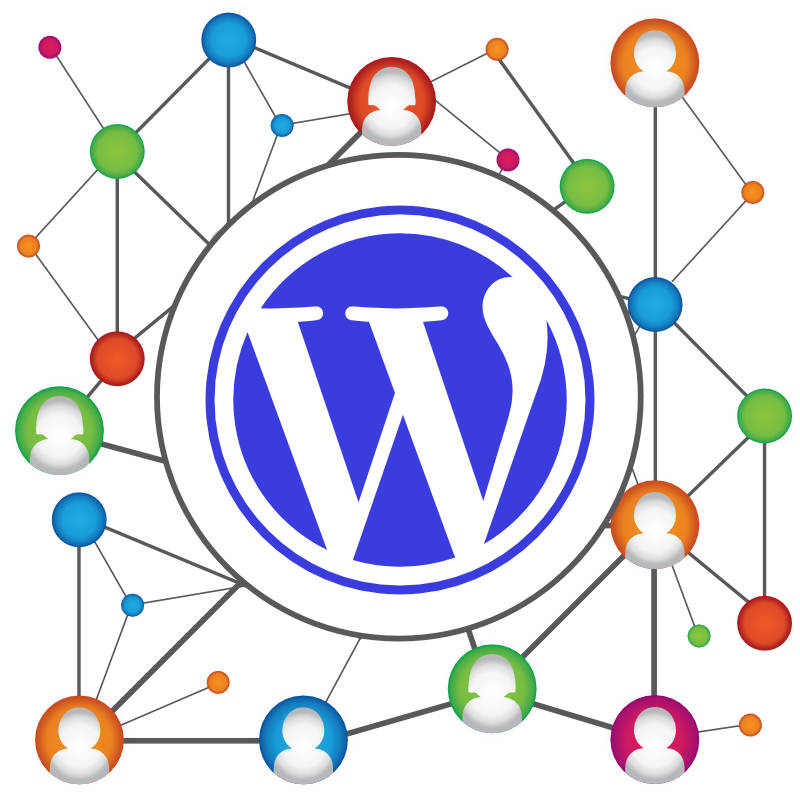 What does an intranet or extranet need?
According to our customers and the market we have been observing, a standard professional intranet or extranet certainly needs the following:
Members Directory: This gives the user fast access to information about any member, staff or teammate in few seconds.
Member Profile: The intranet needs social network features like updating, cover photos, avatar and so on for easy profiling of members.
Member roles: An intranet needs to be capable of managing privacy and permissions across all its platforms.
Events Calendar: This helps in displaying the company's events, annual leaves and other features which includes the possibility of synchronizing the calendar with Google calendar.
Blog: This, of course, is to enable the publishing of the company's news and updates with the ability for visitors to comment and react.
Wiki: This is needed to help teams learn how to use the software and provide online documentation about any service or product.
Polls, download areas, and widgets.
Given the list above, it probably sounds exactly like a typical WordPress stuff right?
Why pick WordPress and why is it a good – if not the best – choice?
Let us get something straight, WordPress is just a blogging and a content management system. Isn't it?!  Well, No. WordPress is being used by more than 45% of websites around the world, as a result it gives it a leading edge and advantages that a lot of software can't boast of. But let us not go too far with facts and statistics, let us start with the obvious ones.
WordPress is software which ensures complete privacy for a user. It can be installed in simple steps in a couple of minutes without prior knowledge of its functionalities and almost all hosting companies there is can host WordPress..
WordPress's coding is open source with standards that are popular in the developer's community.
WordPress has many features that are on the intranet 'must haves' such as the obvious one which is blog articles and the likes of custom pages, user capabilities, security, pages and custom navigation which by the way does not make a complete intranet but rather a good start. An intranet is all about members and their interaction within this network, To make up for other must-haves for an intranet, the WordPress community has already developed the right tool which is called BuddyPress. Do you see the play on words here? From 'Word' to 'Buddy.' Isn't intranet somewhat about buddies?
Anyways, by clicking the 'Install' button on the BuddyPress, we are making a big step forward. Boom… The website becomes a community site with extended profile, groups, members director, activities and even private messaging. So we are definitely on the right path to getting the customer what he needs.
But let's stop here.
I probably should tell you that getting an intranet or an extranet done is a tremendous job. This is first of all because you will need a lot of plugins with the appropriate settings. This generally takes a whole lot of time and effort.
But don't deter, there are themes with pre-installed plugins out there that will do just the right job for you. It saves you a whole bunch of time and money by using a predefined theme. Trust me, this is what I did, and in my research, the following themes were the most outstanding ones.
So these are the best wordpress intranet themes on the market.
Included with all the plugins and right settings for security!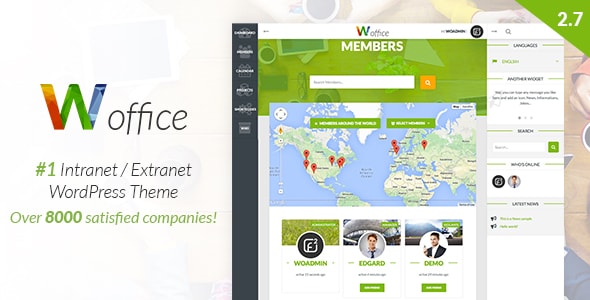 Woffice is a WordPress theme built from scratch to create powerful intranets. The main idea behind this theme is to fit the gaps between WordPress and the intranet world, using its ecosystem. But let us skip the formalities.
What exactly will it add to my intranet?
Your site automatically becomes private. Any visitor that is not logged in will be redirected to the login page. Although you can change this feature and you can also choose to make some certain pages public.
Your staffs will be able to register with your company's email domain. You can also use social media logins like Facebook or Google if you wish to.
There exist a dashboard homepage with a nice drag and drop which is entirely customizable through the WordPress widgets page.
On the extension page is the Project Extension which once enabled, you'll be able to create a project for your team, assign staff, manage tasks, attach files, add timelines, comments, and links to third-party applications.
You can enable the Wiki Extension that will add a complete Wiki system to your Intranet with front-end edit, likes button, categories, hierarchy, search and other useful notifications.
You'll have the possibility of letting your users edit posts, projects, events or wiki articles for you or with you. You can even choose to review or accept them by default.
Several plugins are installed whenever you set up Woffice. Some of these plugins are files manager plugin, an events manager plugin, the Revolution Slider and a built-in drag & drop page builder.
Lastly, other extensions normally won't be useful for everyone, but you will find them with the package of Woffice. An example is Poll Extension which is used to create a poll at any time, and the Woffice Birthdays Extension to display the next birthdays in your company and a few others.
So those are what the Woffice will do to your intranet. But it comes at a price which is $75. 
But therefore you'll get all the features, plugins and extensions bundled for free in the package. Once you pay the initial fee, there is no premium option or an extra subscription to pay.
Is it all glamorous? No, The disadvantage of Woffice is the fact that it takes care of all its design part as a theme. If you don't like a particular design and the layout, you won't be able to use its feature by incorporating it in any other theme. But the good news is that with the use of some costume CSS you can change the look of the site. However, I still prefer Woffice because of all the pre-installed widgets. This was what I needed to satisfy my customers. But then again. It lacks customize options – and it is for sure not the only solution on the market.
I also investigated other themes and trust me; they are really great too.
plugins and functionallity
90%
Pros
+ A solid theme with great support.
+ Great plugins included.
+ Great widgets.+ Complete.
+ Easy installation!

Cons
-Advanced styling might need some CSS Scales.
-Not the cheapest theme.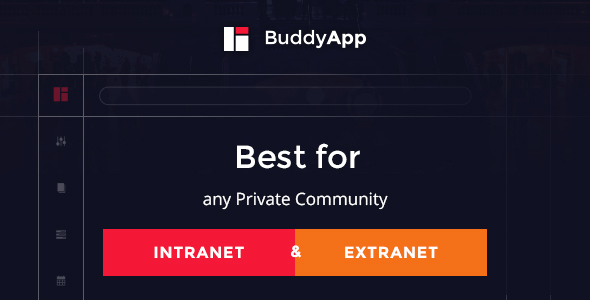 BuddyApp is an impressive and fantastic theme with superb modern features. Regarding design, BuddyApp shares many similarities with Boss 2.0. Also, these two themes share a lot regarding usability as well as the user experience. BuddyApp can work well on both private as well as public intranets as it boasts of an elegant and creative integration with BuddyPress. It can also be used to build an impressive social networking site, and the development team has simplified technicalities by tailoring the theme's user experience to the most common add-ons. Real-time usability features like live notifications, makes the site more attractive to end users. Also, Facebook login allows more sign-ups as well as promote visitor engagement.
If you're looking for a theme with excellent versatility, BuddyApp is a great theme to try. It has a Drag and Drop Page builder to facilitate quick design changes without having to code. Back-end panel allows site owners to enjoy numerous customization options. This theme is retina-ready, well documented and has WPML support.
Some key features of BuddyApp include:
Live Site Customizer – This helps in designing your site while you preview the changes
Drag & Drop builder – VA visual composer is included, and it, therefore, saves you $34
Great mobile experience with Mobile first design approach
Unlimited colors – You can choose to individually style the Header, Side menu, and the content body
1 Click full demo content. Install posts, widgets, menus
Retina ready – Icon fonts included
600+ Google Fonts to choose from on headings and text
Child Theme included for easier theme upgrades
See, I really love this theme. Its features make it easy to use and free to customize. 
plugins and functionallity
90%
Pros
+ A solid theme with great support.
+ Great plugins included.
+ Mobile first approach.
+ Easy installation!
+ Demo content.
+ Visual Composer included.
Cons
-I didn't find some. 
Thrive –Intranet and Community WordPress Theme
Thrive is the ultimate solution for a collaborative online community. Including, messaging, forums, events, project and task management, bringing together social networking, file sharing, e-commerce and even e-learning. Thrive can be tailored to your needs; the users within the intranet or extranet can easily share files, event tickets, messages, and edit and collaborate on documents, and manage files and projects. Thrive also offers a private site option, with a secure login for members.
Thrive is a creative and extensive WordPress theme that has been designed as a complete platform for company portals, intranets, and extranets. It's not only simple to set up and run, but also packed with every feature you'd need; it's not hard to see why this excellent theme is the one of the top self-hosted social networking, intranet and extranet solution for WordPress. Building your site is quick and easy with the Visual Composer drag and drop page builder (saving you $34). Thrive is also fully integrated with BuddyPress, BuddyDocs and BuddyDrive
Some key features of Thrive include:
Private Website (Members access)
BuddyPress Integration for a Staff Directory (BP Members Roles)
Searchable Employee Directory (BuddyPress Members)
Forms – HR (WP Form Builder)
Visual composer is included.
Social Activity Feeds (BuddyPress Activity Stream)
Company events calendars (The Events Calendar)
Polls for surveying employees (WP-Poll)
Knowledge Base or Wiki with front-end editing (BuddyPress Docs)
File Sharing (BuddyDrive)
Project Management (Task)
This creative and extensive WordPress theme has been designed as a complete platform for company portals, intranets and extranets. Simple to set up and run, but packed with every feature you could need, it's not hard to see why Thrive is the one of the top self-hosted social networking, intranet and extranet solution for WordPress.
plugins and functionallity
98%
Pros
+ A solid theme with great support.
+ Great plugins included.
+ Lots of functionality
+ Easy installation!
+ Demo content.
+ Visual Composer included.
Cons
-Maybe to much options for basic needs. 
CommunityJunction - BuddyPress Theme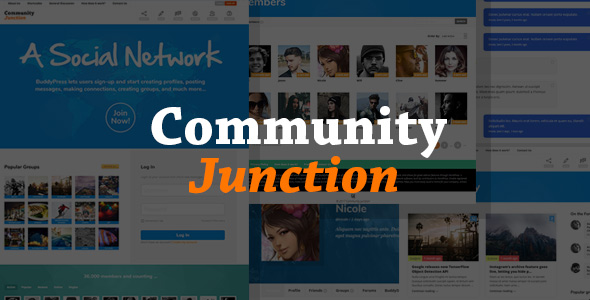 CommunityJunction is another tremendous social networking theme which helps even a non professional to create a stunning community site on the WordPress platform. This ultimate BuddyPress theme for your online community is creative and outstanding. In the 2.0 version released on 14 July 2017. There was a dramatic improvement on brand identity, attention, and confidence with every page detailed and polished. Other outstanding features include excellent colors selection, consistency, clear typography, and usability.
CommunityJunction extracts BuddyPress features and delivers it in a better form. Like I said earlier, a social media in a box it is.
Some key features of CommunityJunction include:
Login members access
Works with the latest 3.0 version of BuddyPress
Quick & easy demo content installation
Integration with powerful page builder
Integration with live global search
It can build an intranet website, display different widgets for members and for guests.
It has full integration with bbPress
Compatible with rtMedia as photos, music, and videos can be uploaded
plugins and functionallity
80%
Pros
+ A solid theme with great support.
+ Great plugins included.
+ Works with all the Buddypress versions.
+ Easy installation!
+ Demo content.
+ Visual editor compatible.
Cons
-Not that much functionality as Thrive or BuddyApp. 
Aardvark - Membership & Community Theme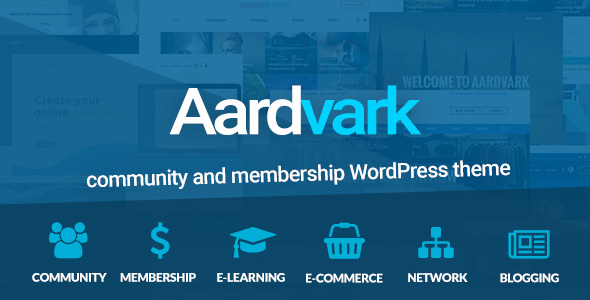 Aardvark is another highly flexible BuddyPress WordPress theme. When you think of a multipurpose community theme, think about Aardvark. You can use Aardvark to create a membership site, e-learning portal, a social network, or even a social eCommerce store. Seriously, you can also create any type of website you want with this premium theme.
When choosing Aardvark for your membership site, it is compatible with the Paid Memberships Pro plugin. For e-Commerce, you can use WooCommerce. And For e-learning and online training, it works great with Sensei, As far as actual page creation is concerned, this community of theme comes with an in-built drag-and-drop page builder. Creating custom templates to use for any pages on your site is quite easy here. Add to this the customization features for changing the colors and typography, and Aardvark is a wildly flexible WP Theme.
Some key features of Aardvark include:
BuddyPress integration. (BuddyPress 3+ compatible)
bbPress integration.
WooCommerce integration.
Paid Membership Pro integration
Sensei integration
Event Manager integration
Includes over $100 worth of premium plugins
SEO Ready and mobile optimized
Intranet/extranet features which restrict access to the site until a user is logged in.
Visual Composer included ($39)
The Aardvark theme features seamless integration with WPBakery Page Builder (formerly Visual Composer) to create beautiful layouts in minutes. Aardvark also provide 15 unique elements.
plugins and functionallity
100%
Pros
+ A solid theme with great support.
+ Great plugins included.
+ Multiple functions within one theme.
+ Works with all the Buddypress versions.
+ Easy installation!
+ Demo content and pre-designed themes 
+ Visual editor compatible.
Cons
-Not only a intranet theme.
-Lots of extra functions that you might not need. 
So… There we have it. I believe this little research of mine has availed you a list of awesome themes you can choose from. But if there are not enough, you could also look here to check out for other themes.
Just so you know, I did my job right for my customer. I hope I have helped you or at least put you on the right path.
Cheers!